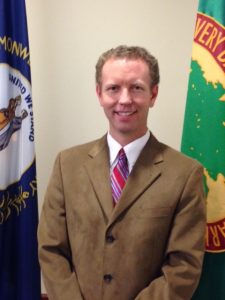 Ben was appointed to Edgewood City Council in October 2013. A lifelong resident of Edgewood and member of St. Pius X Church, Ben attended R.C. Hinsdale, St. Pius X School and Covington Catholic High School before earning his architecture degree from the University of Kentucky. He is a licensed Architect and has worked for GBBN Architects since 1994. He and his wife, Carrie, have 4 children, Ellen, Caroline, Jenna and Henry.
In addition to serving on council, Ben volunteers with the Northern Kentucky Chapter of the American Institute of Architects, the Boy Scouts of America Dan Beard Council's Board Nominating Committee, KET's Northern Kentucky Board, St. Elizabeth Hospital's Young Professionals Fundraising Board, and serves as chair of St. Elizabeth Hospice's Strides for Stars 5K and as vice president of Brookwood Swim and Tennis Club.
He enjoys making memories with his family at the swim club, renovating their mid-century modern home on Brookwood Drive, restoring antique automobiles and researching family, as well as local, history.
"Our city is a spectacular place to live, work and play, and I would like to keep it that way! I consider it an honor to serve as your councilman, so please feel free to contact me at any time."