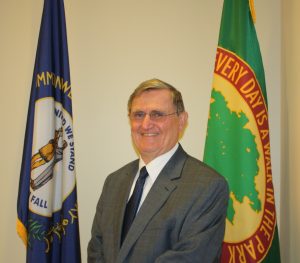 Mr. Wichmann has been an attorney in Northern Kentucky and Southwestern Ohio since his graduation from the University of Cincinnati, College of Law in 1964. He is licensed to practice in all of the state courts of Kentucky and Ohio.. He is also admitted to practice in the United States Supreme Court, the United States Tax Court, the United States Court of Appeals for the Sixth Circuit and the United States District Court for the Eastern District of Kentucky.
Mr. Wichmann has lived his entire life in Erlanger, Ky., where he was born, grew up and raised his own family; and where he swears he will breathe his last breath. After his graduation from law school in 1964, he was elected as the Prosecuting Attorney for the Erlanger Police Court in 1965. That was the beginning of his experience in municipal and governmental law. That experience continued into being the City Attorney for Erlanger continuously since 1975, for the City of Taylor Mill since 1972 and for the City of Edgewood since 1977. The walls of his office are decorated with proclamations and resolutions acknowledging his service to those cities, along with a key to the City of Erlanger, which has also named the conference room in the Erlanger Municipal Center for him. Along the way he has been recognized as one of the most respected municipal attorneys in the Commonwealth of Kentucky; and, in 2010, he was elected by his peers as the Executive Director of the Municipal Attorneys Association of Kentucky; and he has remained in that position ever since.
Mr. Wichmann is also active in his profession. He has been a continuous member of the Kentucky Bar Association since 1965. In 1976, he served as the President of the Kenton County Bar Association, which was later merged into the Northern Kentucky Bar Association, of which he has also been a continuous member. He was also instrumental in establishing the Northern Kentucky Legal Aid Society through the Kenton County Bar Association in 1967.
Mr. Wichmann is also active in his community. He has been a member of St. Henry Catholic Church all of his life; and he contributes regularly to the church and its organizations. Likewise, he is an active member of the Erlanger Lions Club; and he contributes regularly to their activities, both monetarily and professionally. His office walls are decorated with numerous recognitions of those contributions, especially his efforts that resulted in the exemption from taxation of both the Erlanger Lions Club and the Florence Lions Club as charitable organizations, which saves each of them thousands of dollars every year. For this accomplishment, the International Association of Lions Clubs conferred upon Mr. Wichmann a life membership in the Erlanger Lions Club for outstanding service as a Lion.