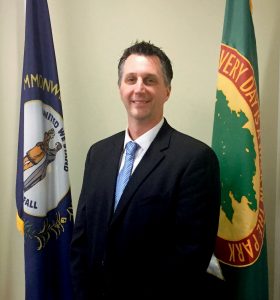 Moving to a house on Madonna in 1976, Rob Thelen has spent most of his life in the City of Edgewood.  Rob has many fond memories of those early years while attending RC Hinsdale and Turkeyfoot Middle School.  After graduating from Covington Latin High School in 1988, Rob went on to obtain Bachelor 's degrees in History and Organizational Studies from Northern Kentucky University.
Rob and his wife Cara moved to Independence to start their young family in 2000.  While continuing his career as a Senior IT Project Manager, Rob went back to NKU in pursuit of a Master's Degree in Public Administration and a Certificate in Non-Profit Management, graduating in2009.  When an opportunity to move arrived, Rob and Cara knew there was only one place to consider.  So in the Spring of 2011, they moved their family to a home on Ridgetop Way and have lived there ever since.
Rob enjoys coaching his son's baseball and basketball teams and staying active playing sports and volunteering with the Edgewood Recreation Committee.
"Edgewood has been a wonderful place to call home for many, many years.  I have a vested interest in the future of the city and want to help the city reach its future goals.  It is a privilege and honor to have been elected to City Council and to serve the people of Edgewood."