Mommy and Me Painting Class
July 16th 5-7:pm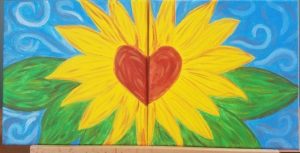 Join us on July 16th in Presidents Park at the Jefferson Shelter from 5-7pm for a fun night out with your child! This year's theme is "Hello Sunshine!" Both paintings come together to create a unified masterpiece (example pictured above)!
Cost is $25 for Edgewood residents and $35 for non-Edgewood residents.
Cost includes 2 canvases, brushes, paint, and all other supplies.
Step-by-step instructions will be provided. All skill levels are welcome!
Limited to 50 participants
After the event, stay at the park and enjoy the concert by Robin Lacy and DeZydeco!