White House Event Center
The inside of the White House Event Center seats 40 (20 chairs/20 stools) plus one couch and 2 loveseats – 60 standing.  Additionally with nice weather around the corner, we will have seating for 12 on the patio.  Renters may also rent additional tables and chairs (from an outside source) for additional seating on the patio.
White House Event Center Rates
Click Here for White House Rental Agreement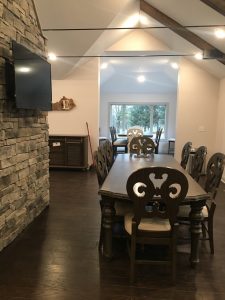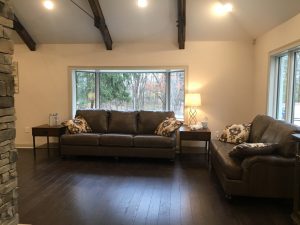 _____________________________________
Senior Center

The Edgewood Senior Center is located at 550 Freedom Park Drive, in Freedom Park. The Senior Center is home to the Golden Age Social Club. If you are interested in joining the Golden Age Social Club applications are available at the city building. The senior center is also available to rent for parties, meetings, etc. The entire facility can accommodate 200 people (Jon Draud Hall – Hall C) or can be divided to accommodate smaller gatherings of 120 people (Hall B) or 80 people (Hall A). To check availability please call the city clerk's office at 859-331-5910.
Hall A

Hall A Kitchen




Hall B

Hall B Kitchen