ANNUAL HOLIDAY HOME DECORATING CONTEST
 DECEMBER 11th – 13th 
-EXTERIOR DECORATIONS ONLY-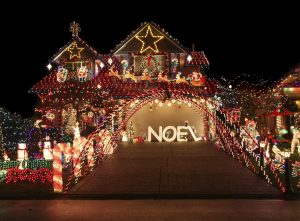 ONE NEIGHBORHOOD WINNER WILL BE SELECTED FROM EACH OF THE FOLLOWING AREAS:
 WINDING TRAILS, PRESTWICKE, BROOKWOOD, DUDLEY
VILLAGE, CHARTER OAK, WHISPERING WOODS, PIUS
HEIGHTS, MEADOWLARK AND OLD EDGEWOOD
(Based on participation the judges may omit an area and select more than one winner in the same neighborhood if necessary. All judges' decisions are final.)
 IF YOU FIND A RED RIBBON ON YOUR
MAILBOX YOU ARE A FINALIST!!!
  WINNERS WILL BE ANNOUNCED DECEMBER 18th!